CLOUD SERVICES
The Cloud as a platform and driving force
S3K's team of professionals dedicated to the development of services, projects and solutions based on Cloud technologies views the Cloud as an ecosystem that enables Organizations to reappraise their strategies for the procurement and consumption of IT resources.
Our mission is to simplify Organizations' move towards a new model of development, based on data, Cloud technologies and new "as a service" and "pay-per-use" consumption logics.
We have the skills to help Organizations with the adoption of Cloud technologies, combining a deep knowledge of traditional IT environments (on-premise), with new technological paradigms offered by the Cloud, integrating in hybrid environments traditional technologies with multi-Cloud services, ensuring that the Organization has uninterrupted services, flexibility and protection of their existing investments.
Among the services we offer are:
Our expert services are divided into:

Cloud Adoption
We work with our Clients to answer the questions, "Why migrate to the Cloud?" "How to migrate to the Cloud?" Our experience in traditional IT (on-premise) environments and knowledge of the new technological paradigms offered by the Cloud allow us to define safe pathways and effective "Cloud Adoption" strategies. We want our Clients to be able to focus on managing new business models, with higher levels of service and performance, and not to waste time, energy and resources on technological complexities to ensure existing investments are protected.

App Modernization
We are accustomed to using many apps, built with a multitude of technologies. Deciding the right strategy to modernize applications can thus be an arduous process. Action needs to be taken when they become obsolete and incompatible with the OS on our devices, or when they expose our data to serious security risks, or when they no longer meet the business needs for which they were created. At S3K our team of professionals with their multidisciplinary skills is responsible for formulating the best "App Modernization" strategy, in order to meet our Clients' most complex needs in the best possible way. In cases where the graphic interface of the application is obsolete or not functional, our Customer support service can suggest and provide an overhaul of the UX and UI.

Infrastructure optimization
The challenge:
The traditional model for IT services is now showing its limitations.
Purchasing and setting up hardware components and software systems requires significant investments in capex and human resources. The rapid obsolescence of systems and undeniable rigidity of the entire infrastructure make this model largely inefficient.
The proposed solution:
The Cloud allows us to move beyond this model, giving us the chance to perform a sophisticated "Infrastructure Optimization" operation, whereby we can move workloads from "on-premise" systems to our favored cloud infrastructure. It is a question of balancing the use of resources, avoiding capex investments and safeguarding investments undertaken.
Optimizing one's IT infrastructure is often the first step in defining a "Cloud Adoption" strategy, allowing the company to take its first steps towards the Cloud.
The S3K Team's in-depth knowledge of the various platforms and a vision based on the quality of services offered are the key to having a complex and multi-cloud ecosystem, with on-premise components and other components distributed using SaaS, PaaS and IaaS models on different Cloud Providers.
With the adoption of the Cloud, IT assets are managed differently. This requires a multidisciplinary approach and new tools.
The challenge becomes that of constantly optimizing capacity and service levels in order to maximize the performance/value ratio and optimize costs, while avoiding waste.

Low Code No Code Application
Working in smart mode by harnessing the potential of intelligent automation. The acronym LCNC (Low Code No Code) is a new way of creating applications for which, in most cases, a programmer is not actually needed. By using technologies that are often already adopted by users, processes and workflows, or actual applications, can be created without necessarily having a knowledge of programming languages. This offers a significant increase in productivity. Even professional programmers use low-code platforms to create prototypes and Proofs of Concept for innovative apps.
At S3K, we help our Clients to intelligently tailor solutions that address specific business needs, such as:
Managing data, collecting real-time data or merging data
Automating processes
Organizing events
Managing work schedules

Dynamics 365 solutions
Microsoft Dynamics 365 is an ecosystem of intelligent, customer-oriented business applications designed to manage data and processes.
Dynamics 365 integrates powerful CRM functions, a key component for managing the integration of processes between a business and its clients. With a simple and modern interface, Dynamics 365 allows you to access your data over a broad range of devices. This allows people to have a deeper knowledge of their clients and their needs.
Dynamics 365 combines CRM and ERP functionality and Office 365 to enable the management of specific business functions in the areas of sales, customer service, operations, financial services, field services and marketing.
It enables you to create and maintain a clear overview of customer data, from first contact to the purchasing and post-sales phases.
It is an ideal solution for raising sales volumes, marketing effectiveness and quality of customer service.
Our consultants and technicians are now focused on managing and optimizing marketing, sales and customer service processes.
Over the years we have created vertical solutions to address specific needs, including:
Job Management
Project Management
Timesheet and absence management
Electronic Invoicing
Employee Certification Management
Cash Flow Management
Budget management by cost item
Budget management by cost item
Budget Management by cost center
Quality Process Automation
Customer services management
LOB (line of business) management and integration
Integration with legacy systems

Modern Workplace
To set up the Modern Workplace, create a fully collaborative work environment and increase the productivity of all staff, it is necessary to integrate many technology components used on different devices, for users both inside and outside the company.
A Modern Workplace combines hardware devices (notebooks, smartphones and tablets) with many application components to ensure users are fully operational. At S3K our dedicated Team aims to take Clients into a modern Cloud working environment, integrated with all business components, capable of enabling innovative and collaborative processes, securely enhancing data and documents and enabling different working modes, such as smartworking.

Cloud Migration
Migrating data, infrastructure and applications to the Cloud means, first of all, rethinking the model with which professionals inside and outside the organization operate and work.
The impact and scope of a migration project is horizontal, and involves the entire enterprise. It cannot be an IT-only driven task.
The Cloud Migration solution created by S3K is a path that will be customized for each individual Client. At each stage, evaluations will be undertaken about security, compliance and privacy requirements, budget requirements, the criticality of the solution to be migrated, and last but not least in-house know-how, to ensure operability and service continuity.
There are many variables to consider before deciding on which Cloud model (Public, Private, Hybrid) and service model (SaaS, PaaS, IaaS) to adopt.
Only teamwork involving S3K Cloud Providers and our Clients can bring about the expected results, along a pathway that gives businesses time to adapt to the transformation process.
We take a multi-Cloud approach, both to avoid the criticality of "vendor lock-in" and to take advantage of the best offered by major Cloud Providers (AWS, Azure and GCP) on the market. Our model is based on the realization of hybrid and multi-Cloud solutions and architectures, supported by high-quality professional services, customized according to the Client's needs.
Our approach:
There is no one-size-fits-all approach to adopting or consolidating the use of Cloud technologies.
A strategy must be based on the achievement of strategic medium and long-term objectives.
In terms of methodology for defining a Cloud Strategy, we follow these steps:
Assessment: We begin with an understanding of the Organization's business and activities. Through interviews, webinars and workshops, we analyze the entire IT infrastructure and the complexity of processes, in order to provide solutions adapted to Cloud scenarios.
Cloud Strategy: Our experts help to draw up the most appropriate strategy for the adoption of Cloud technologies, and define how to extend IT systems and related processes in the Cloud, always paying the utmost attention to the security and protection of investments.
Cloud at Work: This is the phase in which the process of optimizing application systems, data and infrastructure begins, depending on the chosen Cloud model (Public, Private, Hybrid), and service model adopted (SaaS, PaaS, IaaS).
In this phase, all security features of the ecosystem will be reviewed and adapted.
We employ a team of specialists, with multidisciplinary experience and technical qualifications: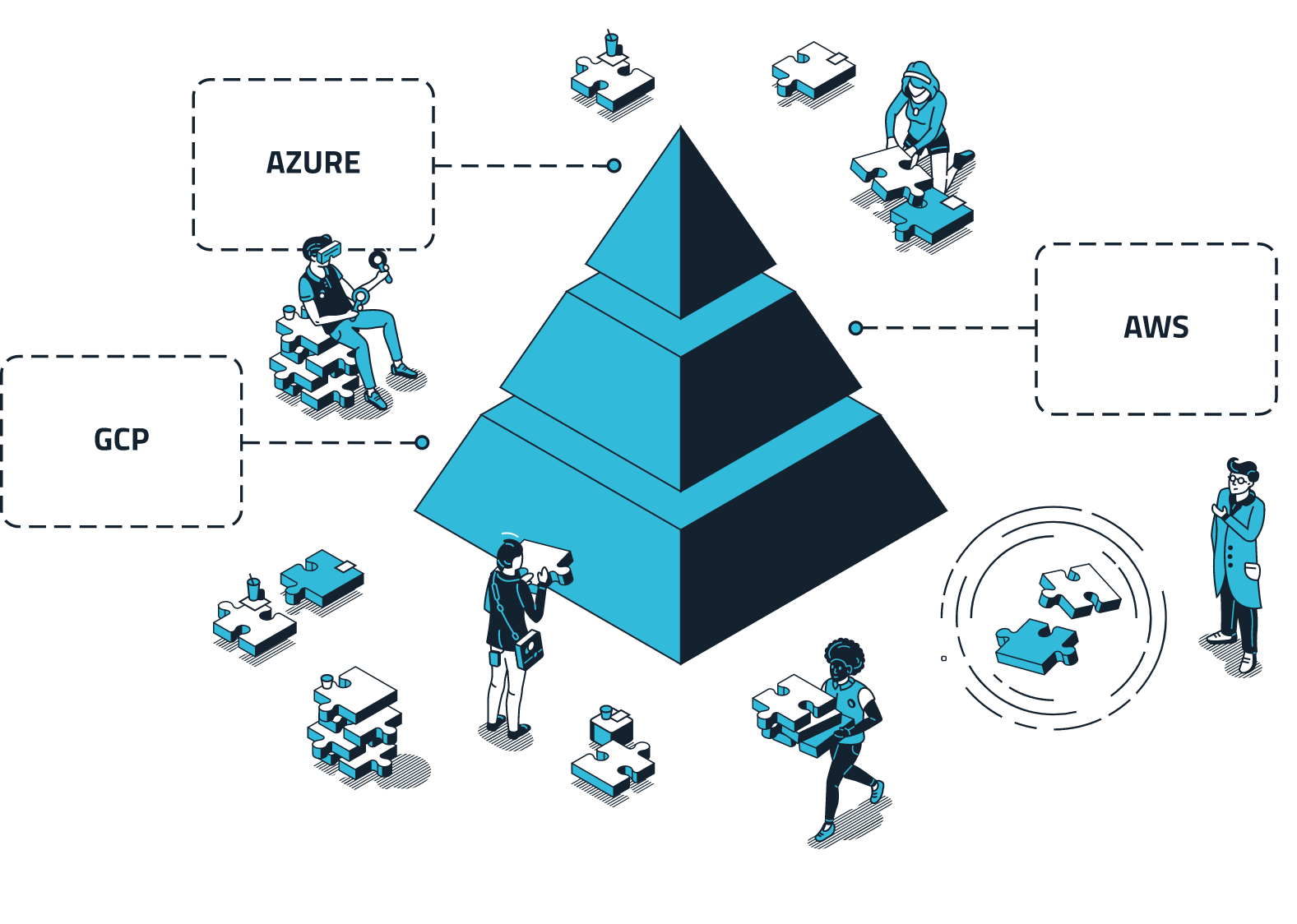 With the Cloud comes a brand new model for addressing security-related challenges. Whatever architecture we work on, at S3K we work to boost the innovative potential of the Cloud, while remaining focused on data privacy and security of the entire infrastructure.
We achieve this by leveraging our experience in the Cyber arena.
Our Team of experts support all our projects in all the different stages, in order to ensure that the most advanced security procedures are complied with.