BUSINESS OPERATION SYSTEMS
BPR - ERP - CRM - DTM
DTM Business processes and optimization of information systems.
At S3K we have an ERP and DTM Team that specializes in business processes: supporting application solutions, warehouse logistics, production, maintenance and service, quality and IT processes.
The activities are mainly related to BPR, as a necessary and essential element to the implementation or optimization of information systems especially in the management area. Starting from the needs of the Customer, mainly satisfied with SAP, the Team integrates other technologies depending on the need, always keeping as priority the business process that must be mapped on the application system.
The Team dedicated to Management Solutions and CRM, is aimed at organizations that want to optimize their business processes, and improve and monitor business performance, through appropriate management systems in addition to typical CRM processes.
Among the services we offer are:
Our expert services are divided into:

DTM Systems Implementation
Digital Transaction Management (DTM) has emerged as a new category of cloud services designed to digitally manage document-based transactions. DTM applications eliminate the friction inherent in transactions involving people, documents and data to generate documents with full legal value, using faster, easier, more convenient and secure processes.

BPR Services
Consulenza specialistica, volta all'analisi critica dei processi attuali di business delle aziende clienti, e successiva reingegnerizzazione degli stessi.
Le aree di intervento privilegiate riguardano:
Logistic: Magazzino, Produzione, Controllo Qualità, Manutenzione e Service, Supporto Logicistico Integrato.
Accounting: Contabilità generale, Clienti/Fornitori, Cespiti e Tesoreria, Controllo di Gestione, Controllo commesse complesse e pluriennali.

ERP Services
Consulting and Development Services related to the Design and implementation of end-to-end Application Solutions, based mainly on software platforms of Vendor SAP AG, to support re-engineered processes in the Business Process Reengineering phase.
In-depth knowledge of SAP "basic" solutions:
Es. Fi (financial) forms - CO (Controlling) - MM (Material Management) - WM (Warehouse Management) - SD (Sales & Distribution) - PP (Production Planning) - QM (Quality Management) - PS (Project System)
In-depth knowledge of SAP "extended" solutions:
SCM (Supply Chain Management) in its components such as APO (Advanced Planner and Optimizer) - EWM (Extended Warehouse Management) - PLM (Product Lifecycle Management)
Vertical SAP Expertise and Solutions:
In specific Industries including A&D, Transportation, High Tech, Pharma&Chemicals, as well as in SAP implementation projects conducted as "prime contractors" for national and international public and private companies.

CRM Services
Consulting, management of business processes, and implementation of specific management solutions - CRM for example - but also xrm (extended relationship management).
With a view to xRM,CRM is adopted not only for the implementation of Sales Force Automation, Marketing, and Customer Service systems, but also as an application development platform, activating a framework that provides a versatile and powerful development environment.
Reference Stages:
Needs Analysis
Proposed technical solution formulation
System design
Solution implementation and development
Internal and user tests
Training for users
Release in production
Post release assistance

Soluzioni Dynamics 365
Microsoft Dynamics 365 is an ecosystem of intelligent, customer-oriented business applications designed to manage data and processes.
Dynamics 365 integrates powerful CRM functions, a key component for managing the integration of processes between a business and its clients. With a simple and modern interface, Dynamics 365 allows you to access your data over a broad range of devices. This allows people to have a deeper knowledge of their clients and their needs.
Dynamics 365 combines CRM and ERP functionality and Office 365 to enable the management of specific business functions in the areas of sales, customer service, operations, financial services, field services and marketing.
It enables you to create and maintain a clear overview of customer data, from first contact to the purchasing and post-sales phases.
It is an ideal solution for raising sales volumes, marketing effectiveness and quality of customer service.
Our consultants and technicians are now focused on managing and optimizing marketing, sales and customer service processes.
Over the years we have created vertical solutions to address specific needs, including:
Job Management
Project Management
Timesheet and absence management
Electronic Invoicing
Employee Certification Management
Cash Flow Management
Budget management by cost item
Budget management by cost item
Budget Management by cost center
Quality Process Automation
Customer services management
LOB (line of business) management and integration
Integration with legacy systems
Within Business Operation Systems, we offer cutting-edge Business Process Reengineering (BPR) services, implementing Enterprise Resource Planning (ERP) systems; Digital Transaction Management (DTM); Customer Relationship Management (CRM).
Skills have been applied over the years in various market sectors. In particular in the following: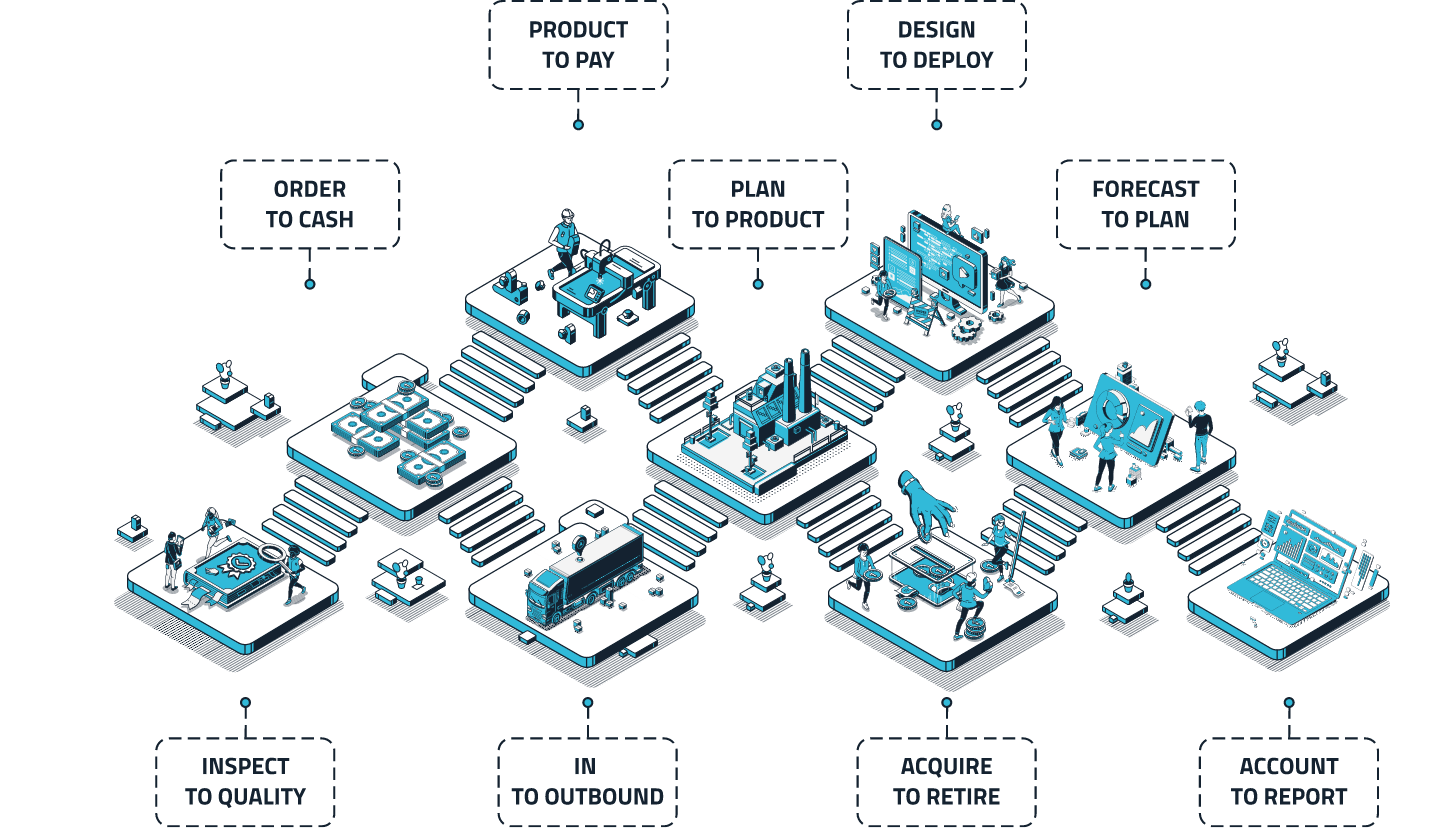 All of our implementing projects are based on the native integration of security elements. These include profiling and identity management systems, RBAC (Role Based Access Control) policies, and more generally include Governance Risk & Compliance and Data Protection best practices. .
DTM Systems Implementation: