DIGITAL TRANSFORMATION
We support our customers by combining technological skills with consulting services, support with development and the operation of innovative systems.
a process relating to the convergence of multiple emerging technologies, which has a pervasive impact on all business processes and on product/service development and diversification strategies in respect of the market.
If this process is addressed effectively through a global company strategy focusing on digital topics, and with a suitable technological partner, it can be a real competitive advantage.
We at S3K offer the guarantee that operations will continue without interruption in a secure and resilient manner in the event of digital difficulties.
What makes us unique?
Our goal is to provide comprehensive innovative responses adopting a multidisciplinary approach when tackling the primary technological challenges of the new millennium.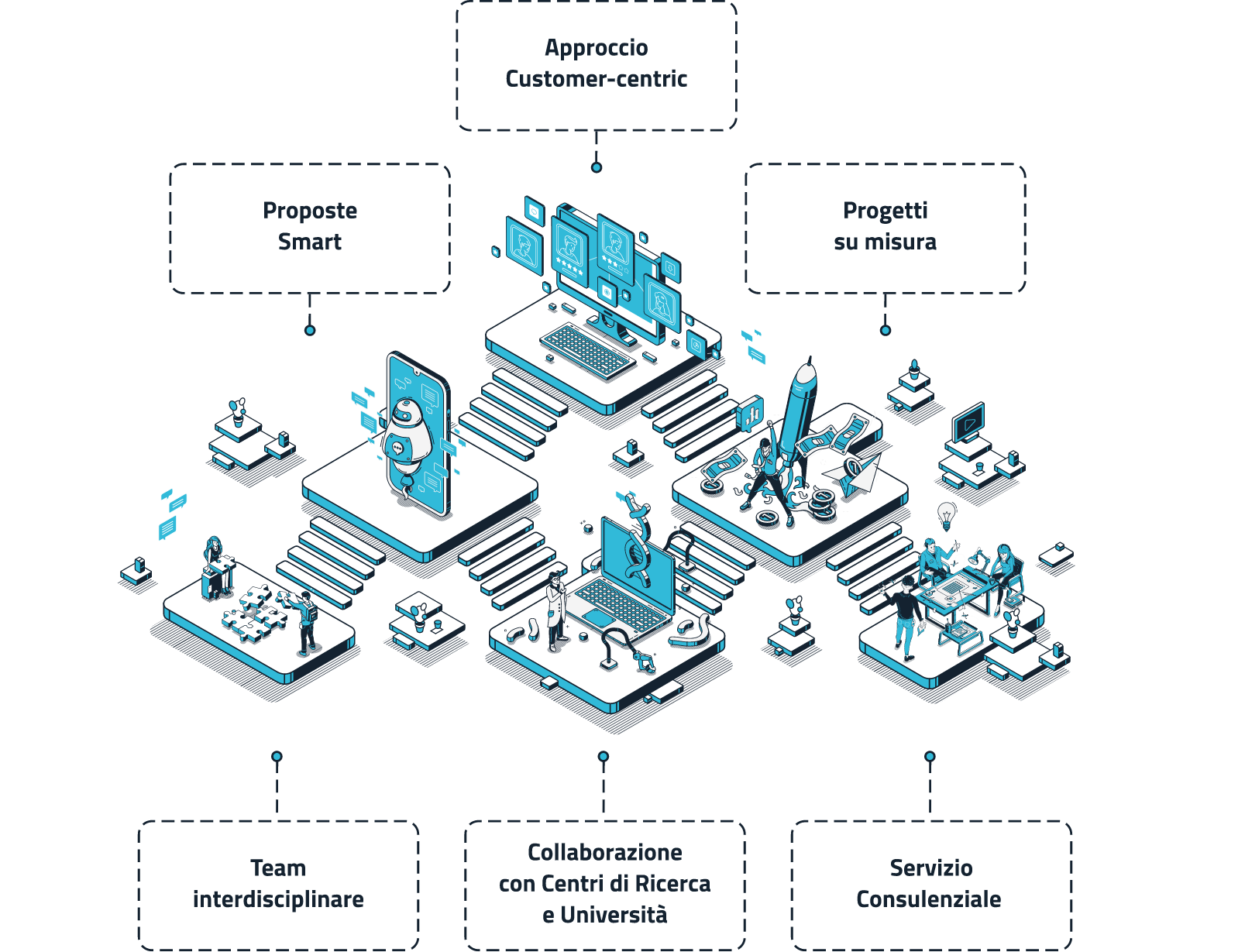 The value proposition reaches its highest expression with the convergence of transformation by adopting Big Data and Artificial Intelligence. AI, and in particular machine learning, can be used to support the automation of business processes, optimize data analysis performance and enable new services and products.
Among the services we offer are:
Our expert services are divided into:

DATA ROBOTICS
Our expert services are divided into: This includes both Robotic Process Automation (RPA) and Intelligent Process Automation (IPA) tools.
Robotic Process Automation is a term that refers to "smart" systems that automatically execute some repetitive activities, interacting with applications and imitating the behavior of operators. This allows Data Robots to develop new knowledge, take decisions, make judgments, and give feedback: "it takes the robot out of thehuman."
Finally, the Team offers consulting services regarding:
The organization and computerization of business processes
Relevance of the process for developing the company's core business
Economic value of the process and exposure to risks based on standards

ADVANCED ANALYTICS
Automated analyses of data or contents through AI algorithms, which have the goal of uncovering deeper insights, making forecasts or generating recommendations for the company's decision-makers and/or end customers.
Advanced Analytics techniques include:
Semantic analysis
Data/text mining,
Partner recognition
Networking
Cluster analysis
Graph analysis
The Team helps the customer to define the use case and the subsequent design and construction of POC, Pilot and Production Release of Advanced Analytics Solutions for areas such as:
Sales Forecasting - Customer Life Cycle & Churn Rate - Customer Acquisition (Lead Scoring Model) - Product & Service Recommendation (Up Selling & Cross Selling), - Dynamic Price Optimization - Fraud and Anomaly Detection - Customer Service (Chat Bot) - Sentiment Analysis - Production and Logistics Process Automation (Object Detection and Classification models) - Employee Turnover - Health and Safety (Employee)

DATA LAKE E DATA PLATFORM
A Data Lake is a data repository that has been introduced in IT management to replace "Data Silos", characterized by a distribution of data storage usually resulting in duplication issues and general lack of integration.
The modern concept of Data Lake comprises all permanent structured and unstructured data, both those of daily use, and historical data, to be retained for legal obligations. Generally speaking, we talk about Data Lakes in relation to all information pertaining to a company. The transformation undertaken by the S3K Team relates to the move from Data Silo mode to the establishment of a single Data Lake. This is followed by the establishment and management of a Data Platform (Data Management Platform), i.e. a technology platform for the collection, standardization, transformation and analysis of large volumes of data extracted using a range of Applications, Databases and/or Data Lakes.
Industries
The markets in which we operate

DEFENSE

GOVERNMENT (PAC E PAL)

INDUSTRIAL MANUFACTURING

PUBLIC & PRIVATE HEALTH

TELCO & MEDIA

ENERGY & UTILITIES

AEROSPACE & DEFENSE INDUSTRIES

DIGITAL SERVICE PROVIDERS

FINANCE

TRANSPORTATION

CONSUMER GOODS & ELECTRONICS

AUTOMOTIVE
FIND OUT MORE