HOSPITAL INFORMATIVE SYSTEMS
We offer ICT solutions and consultancy services regarding their implementation aimed at Hospitals/Medical centers engaged in reorganization and technological innovation processes.
Our experience in the field has led to the creation of jHIS, the Hospital Information System for the structured, functional and integrated management of all hospital healthcare procedures.
It is a solution that enables the computerized and global management of the healthcare facility, in organizational, clinical, administrative and healthcare terms, allowing the networked and parallel management of one or more facilities, such as Hospitals, Medical centers and Local Health Authorities.
Among the services we offer are:
Our expert services are divided into:

Data Analytics & Governance
Collection and analysis of large volumes of data to support the Client's business operations.

Mapping, analysis and computerization
Specialist service for the mapping, analysis and computerization of healthcare processes to support the computerization of clinical processes (e.g. ER, Ward, Outpatient) or review of the process.
The activity consists of:
Process mapping
Analysis
Review and computerization of analyzed processes

Enterprise Management (EAM)
Lifecycle management of technical and biomedical assets, with ongoing evaluation using predictive analytics in Smart Maintenance through AI (ML-DL-NPL) and Augmented Reality tools.

Support and Training
Support services, start-up and training to encourage specific projects of the Client and creation of ad hoc courses.

Customization
Customization, configuration, assistance and specialized maintenance for projects and/or supplies delivered.
We designed jHIS to provide the facility's healthcare and administrative team with a tool for comprehensive healthcare management through multiple functional and integrated clinical and administrative procedures.
Admission, Discharge and Transfer (ADT) Management
Comprehensive management of Electronic Medical Records (medical and nursing)
Drug Therapy Management
Order Entry Management
Planning for outpatient clinic or hospital department
Comprehensive management of the ER transition
Design and assignment of a care pathway/profile
Telemedicine
Telemedicine Platform:
Continuous technological progress and gathering the needs of healthcare team and citizens has led us to design, together with doctors, a Telemedicine Platform that takes risk management into due account and is fully integrated with jHIS and interoperable with any third party system.
APP for Citizens:
We have developed APPs that the Medical center or Region can make available to citizens. APPs that use dynamic maps to locate the nearest Emergency Rooms or open pharmacies in relation to one's current location, and provide estimated wait times at various Facilities.
APPs for the patient's family members:
Who want constant updates on the state of a loved one, allowing the family to be aware of the care path at any time.
What sets us apart: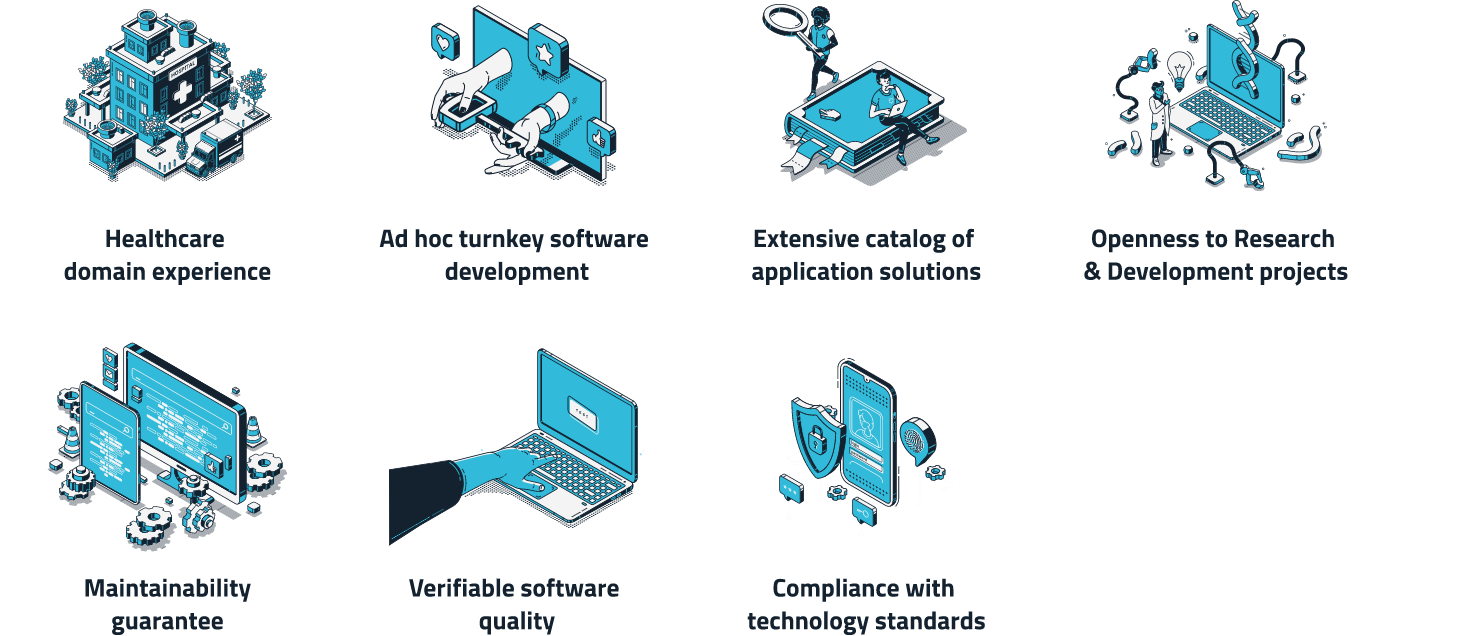 Our "Made in Italy" solution, designed and developed according to Scheduled Workflow profiles (management by process in the healthcare domain) and Electronic Patient Records (EPR). A web solution based on open source technologies, fully integrated and modular, consisting of coherent IT procedures used in the healthcare sphere to manage clinical information and administrative flows of one or more Hospitals/Health Authorities simultaneously.
S3K provides specialist cybersecurity services for the healthcare industry. The design of our solution took into account the suggestions of doctors and nurses in order to produce a complete, user friendly solution taking risk management into due consideration.