4buyer
THE TOOL FOR SIMPLIFYING PURCHASE NEGOTIATIONS DOWNLOAD THE BROCHURE
What is 4buyer?
Save time, optimize costs and manage workloads with 4Buyer: the modular, flexible software for your purchasing department.
4buyer is the vendor management software available in the cloud and on-premise, allowing you to improve the effectiveness and efficiency of your purchasing processes, ensuring maximum traceability and transparency.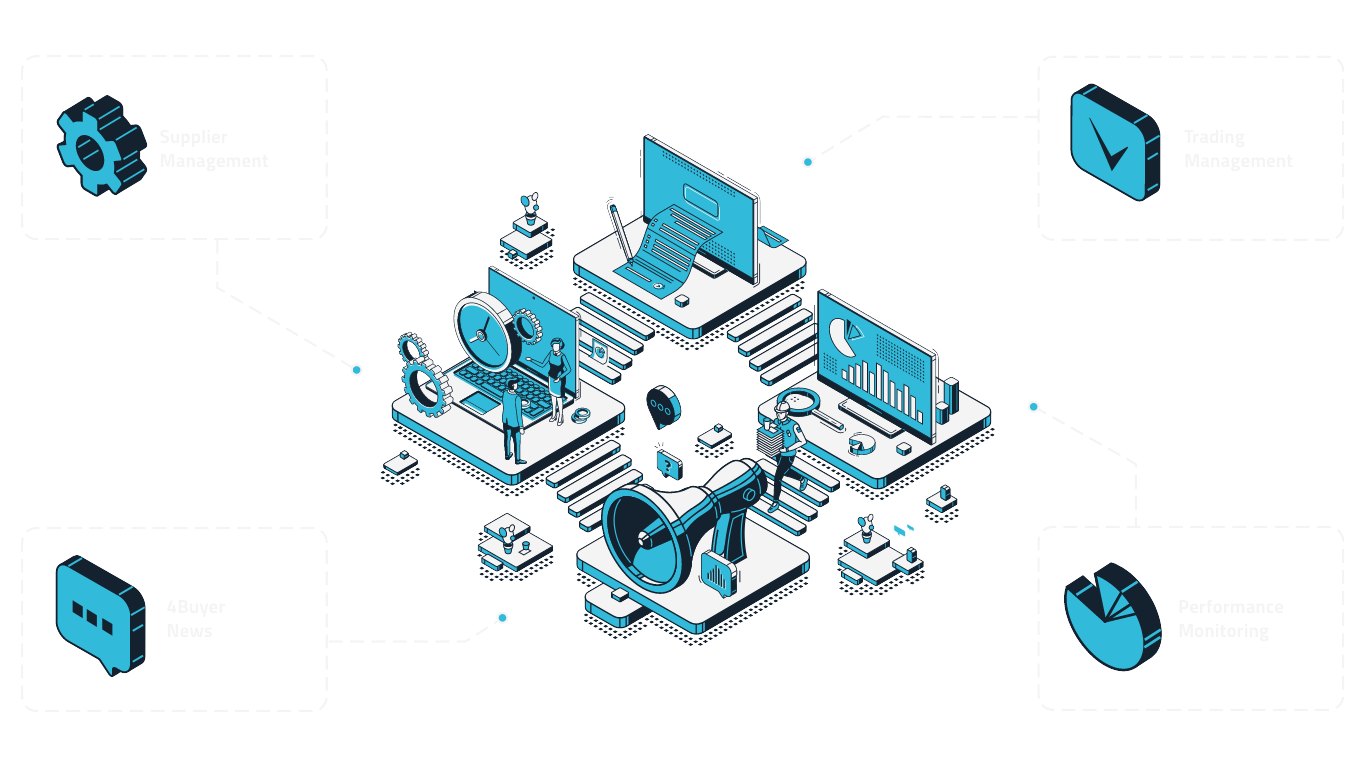 With 4buyer you can:
automate the entry of subjects/entities in the register
evaluate performance and qualifications by product category
create and manage tenders and tender requests
manage documentation and the expiry of qualification requirements
Why buy 4buyer?
4buyer is based on the constant need for a software that guarantees the security of data being managed. The prime goals for us are continuous improvement, innovation, sharing of ideas and the proposing of a well-liked solution.
Choosing 4buyer gives you some economic and organizational advantages:
Complete management of Suppliers' master data
Possibility of choosing from a larger, better qualified set of suppliers
Reducing the ratio: number of resources to processing time of Supplier qualification, tendering and vendor rating requests
Automation of critical processes to achieve significant cost savings
Simplification of the entire purchasing process - which can be undertaken fully online - such as reducing processing time, work done transparently and in compliance with company procedures, traceability of all processes, simplification of audits
Which Services Does It Offer?
The acquisition of 4buyer, in both SaaS and on-premise modes, includes a number of services in preparation for the go- live version of the application.

Vendor rating
Creation of in-house questionnaires for supplier evaluation
Wide parameterization for creating questionnaires
Configuration of questions, answers and assignable scores
Partial rating by questionnaire and average global rating
Rating display for better supplier selection

Tendering
Creation of tenders and quotation requests at lower price and economically more advantageous offer
Configuration of attachments for single tender or bid request
Automation of sending communications to suppliers
Receipt of supplier offer documentation and negotiation
Panel of requests for clarification • Proposal of the winner with the possibility to select the supplier

Suppliers Register
Supplier portal for registration, monitoring, documentation maintenance and response to online tenders
Internal management for the handling of registers for multiple companies and for internal divisions of companies
Possibility to configure the attachments to be requested from suppliers, differentiating them by type and/or category
Management of contracts
Advanced automatic notification system, to better inform users and suppliers of the progress of the practices, and internal users of the actions carried out by the supplier
Configuring user profiles based on their application role and access information
Sending communications to the supplier - also with PEC
Disclaimer versioning management and acceptance monitoring
Automatic management notification of expiring suppliers
Supplier search, supplier file monitoring
Which services does it offer?
The acquisition of 4buyer, in both SaaS and on-premise modes, includes a number of services in preparation for the go- live version of the application.

Installation
Our Team prepares a dedicated environment on Microsoft Azure for the Cloud solution, in the customer's IT infrastructure for the On-Premise one.

Configuration
Based on the type of internal process, the software parameters can be set as agreed. The following application features also need to be configured:
Product categories
Back office users using the application
Supplier validation workflow
One or more emails of communications sent to suppliers and in-house users
Set of attachments required from suppliers, by type

Help Desk
Customer help is given for application maintenance requests. An additional help desk service can be set up aimed at suppliers, both by phone and through a ticketing system, to further help the purchasing department with all activities relating to the qualification and validation of businesses and professionals.

Application training
Information about 4buyer will be acquired by company staff through one or more training sessions, showing how to correctly and effectively use the software.

Consulting
Customizations will always be possible, making 4buyer a software tailored to the most specific needs.